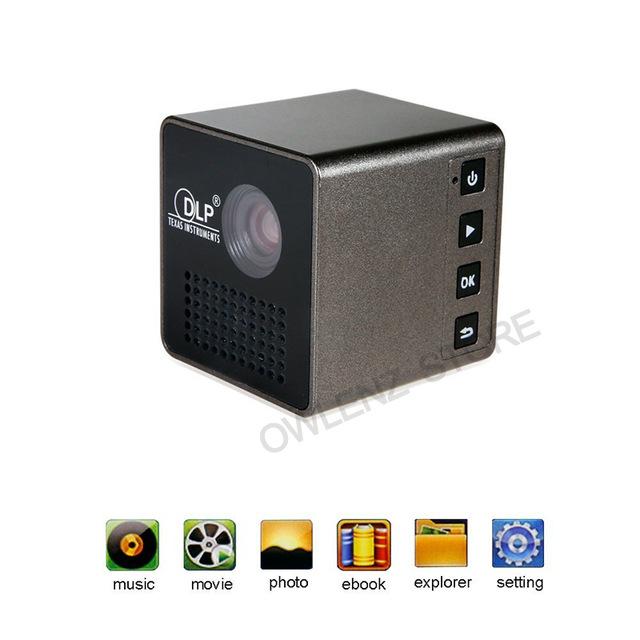 Mini Cube DLP LED Projector
$125.99 $167.95
5291418-black
Mini Cube DLP LED Projector, Rechargable Portable Pocket Projector HD Video Pico with Built-in Battery for Movie Video Toy Gift
Key Features...
1. World's smallest DLP projector. The 1.8"×1.8"×1.8" mini cube project that could be hidden in your palm, is a breakthrough of ULBRE. Tiny body with mighty power and ultra-lightweight (3.3oz), allows you to share screen anytime, anywhere.
2. The DLP PICO offers the best value for your money. It adopts state-of-the-art DLP tech of Texas Instrument displaying vivid images with lower power consumption, and latest LED lamp of OSRAM enhancing the lifespan up to 20000 hours, Plus an audio splitter to bring you an exclusive private home theater.
3. In a room with curtain on, P1 micro projector provides vivid and bright image up to 120 inch. OSRAM LED and super color technology enable the pocket projector to deliver richer colors, 700:1 contrast ratio and 640 x 360p native resolution.
4. TF card takes all! Forget about all the modern unstable wifi, bluetooth, HDMI connections, and let's go to the basics. Remember the old-fashioned way of being together? No phone/computer, Facebook/YouTube, enjoy some off-the-grid hour, watch movies or photos with common memory of your loved ones.
5. Even the elder and kids could easily operate P1 projector. Yes, we provide manual, which you don't need much.
Specification:
Image System:  DLP
Lamp:  LED
Lamp Life:  20000 hours
Native Resolution:  640*360 
Res.Supported: 1080P
Brightness: 30ANSI Lumens
Contrast: 700:1
Power Waste: 10W Max
Power Supply: 12V 1A
Noise: <25DB
Picture Size: 13"-60"
Throw Distance: 0.4 to 3.5m
Products Size:  46mm*47mm*48mm
Projector N.W.: 85g
N.W. including box: 200g
Aspect Ratio:  4:3/16:9
Battery Spec.:  3.7V 950mah(40 minuts working time)
Input terminal:  TF Card/USB(connect USB devices through USB transferred cable)
Output Terminal:  3.5mm Speaker
OS:  Multimedia